Short films curated by Amadeo Marquez-Perez
Date: Friday, 27 November 2015 – Sunday, 29 November 2015
Time:
Flim Flicks 1 – 11:00AM
Flim Flicks 2 – 1:00PM
Location: Site B – PERZIM
Top Delight – 1.41 mins
A stop motion animated short, featuring a muffin, who, while on his morning walk wanders into a frosting machine. Alluding to the theme of identity and belonging, he takes the opportunity to experiment with different frost topping hair styles until he recognises his happiness in one of the choices the machine provides.
Writer, Dir & Prod: Hayley Warnock
12.12 – 20 mins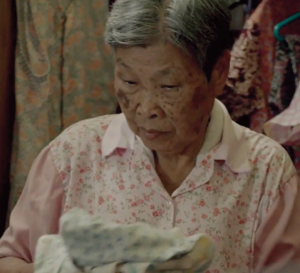 Mrs Lee is a simple grandmother who lives alone. She runs a provision shop on Pulau Ubin, a tiny island off the coast of Singapore. On 12 Dec '12, she encounters an unexpected visitor – Naaz, a young Rohingya refugee who has fled her ship and attempts to seek shelter in her provision shop. Being a good citizen, Mrs Lee calls the police immediately. But as she waits for the police to arrive, she gets to know Naaz better and slowly, develops doubts about handing her over to the police.
Writer, Dir & Prod: Kirsten Tan
Game On – 14.46 mins
On a Monday morning gone wrong, a creative mother of a hectic family, and corporate manager, is challenged to pitch a big contract to her company about a toy game. After overcoming hilarious obstacles before work, she arrives at the board meeting forgetting her bag.
Writer & Dir: Jennie Crystle
Oh Whale (animation) – 5.50 mins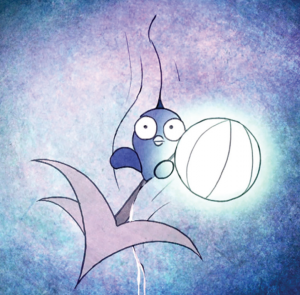 Once upon a time, there lived a fish hungry cat who is on the look out for delicious fish through his telescope, to eat. The cat sees a giant whale who is the fish king's God, the little fish are all happy dancing on his head and around
their God…
Dir & Writer: Joana Locher
Aunt Marulan And The Magic Soap (animation) – 3 mins
Lisa is a little girl who goes every year to her Aunty Marulan's house. Each year she gets gifted animal soap figurines from her Aunt Marulan. So many that her room is going to explode from owning so many! One year some of the soap figurines come to life, they scramble from under Lisa's bed to tell her that they were trapped and turned into figurines by her Aunt Marulan many years ago.
Writer, Dir & Prod: Michelle Lia
Flowers – 8.20 mins
A Young Man falls in love with a deaf and mute Young Girl. When the Young Man tries to give the Young Girl some flowers as token of his affection, he discovers to his dismay that the Young Girl is allergic to all flowers. Undaunted, the Young Man has to think creatively, to get his passion across.
Dir and Write: Sabina Sattar
Homeless Joe (stop animation) – 5.33 mins
Homeless Joe is about a news story that airs and is watched by three different people. It stirs up emotions and makes them think how they have judged a homeless person. It begins how they all sleep at night and follows through each of them coming across Homeless Joe and how they engage with him and show respect through kindness by giving him shelter and food.
Writer, Prod & Dir: Linda Niksic
Marriage Equality – 5 mins
One day Josh wishes he would live in a country where all love is equal. Human rights are for everyone, no matter who you are or who you love. Dramatic shift in policies all over the world like Ireland backed same sex marriage by a land slide, then US in the constitution, it's about time that Australia follows – UK, NZ, France, Brazil, Norway, Canada, Argentina, Belgium, Denmark, Spain, Sweden, Finland, Iceland, Netherlands, Luxembourg, Slovenia, Uruguay have changed their policies to suit.
Writer, Dir & Prod: Josh Lorsch
Silence Is Golden – 2.53 mins
Lisa waits alone in a cafe. A man turns up and introduces himself and sits down. He asks her "How do you feel about procreation?". This is the first in a series of 5 blind dates, all in the same café.
Writer, Dir & Prod: Katharine Rogers
The Present – 4.20 mins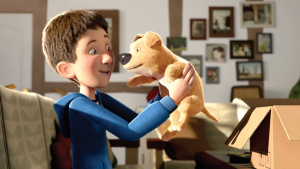 Jake spends most of his time indoors playing video games until his mother gives him a present, a dog with a missing leg. We then see that Jake has a missing leg too. For the first time Jake goes outside to play with his new dog.
Dir. Jacob Frey; Writers Jacob Frey, Fabio Coala; Prod. Anna Matacz, Jacob Frey