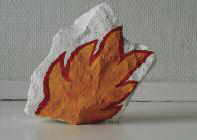 Batu api is an old malay proverb which means a person who likes to incite other people against each other. Batu means stone and api means fire. It is a community art project which involve the public making the artwork with simple instructions given by the artist Amir Zainorin.
In making the artwork, all the participaters have to do is to paint or draw 'fire' on a stone.
In this project, Amir would like to break the barrier between the artist and the viewers. Amir Zainoron was born in Malaysia in 1963 and currently based in Copenhagen, Denmark.
His artwork takes a critical view of political, economical and cultural issues
Date: Friday, 27 November 2015 – Sunday, 28 November 2015
Time: 10:00AM
Venue: Site 3