Dianne Dickson / Australia
Visual Art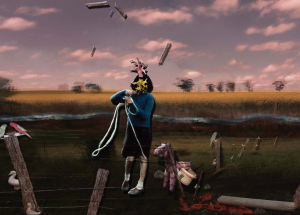 Dianne Dickson's practice uses a variety of media including digital collage, film, animation and poetry to reflect her experience of growing up in a remote area of Victoria. For the last two years she has been combining historical film, video material and oral histories with her photographic and text based work to interpret her experiences of the local landscapes over the last fifty years. This work explores and reinterprets the narratives, folklore and mythologies of her home town, Rainbow, and reflects both the real and imagined violence and tragedies of this harsh and isolating landscape with the characteristic humour that sometimes accompanies such experiences.
Since completing her MFA at the Victorian College of the Arts in 2014 Dianne has been continuing to develop her practice in the town of Rainbow in the Mallee region of northern Victoria, Australia through exhibitions, collaborative processes and though initiating an artists' residency programme in Rainbow.
Date: Friday, 27 November 2015 – Sunday, 29 November 2015
Time: 11:30AM
Venue: Site C