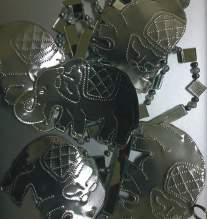 Animal Global Warming
Dhimas Aryo Vipha Ananda | Indonesia
Installation
Reduction of animal habitat are signals to the reduction of animals. With the light, animals made the same language to protect themselves from extinction.
This installation works using laser and animal-shaped hanger with glass to interpret their universal language. Hanger-shaped animals will be hung with some glass as a medium for the reflection of the laser are related to one another.
This work will be presented and in collaboration with Gita Kinanthi's interpretation in her bodyworks that human world have huge difficulty in penetrating the defense of this unique unifying language. The animals achieving this universal language will unite and protect the habitat.
Sat, 26 Nov, Site 1, 11:00am
2-4 hours durational piece